3 tips to make the most of rapidship's shipment calendar
RapidShip's shipment calendar gives you a bird's eye view into all shipments that you have booked through our free TMS. The color-coordinated shipment calendar makes your shipments more easily identifiable. Additionally, we've prepared some best practices to customize your shipment calendar and save you even more time as you manage your LTL shipments.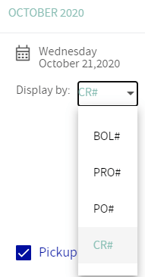 Tip 1: edit your shipments to display the shipment identification code of your choosing
On the calendar view and directly under the date on the right-hand side of your calendar, you'll find the option to display shipments based on your preferred ID method. You can select form BOL number, PRO number, PO number and CR number. Adjust your selection by simply selecting the one you'd rather see!
Tip 2: Customize your calendar based on the status of shipment you'd like to see
With options to display various shipments, you can filter and adjust the view of your calendar to show shipments that have been pi
cked up, have delivered, are late or are missing tracking. To adjust which options are
shown, sim
ply uncheck the box of the options you don't want to see. You'll find this option either on the right-hand side or on the top of your calendar.
TIP 3: PUT the CUSTOMER NAME IN THE REFERENCE ID NUMBER
Further customize your shipment calendar by adding the customer name or product being shipped in the reference ID number of the quote. This will allow you to easily see which product has been delivered, picked up directly from the calendar view. You can find the "Reference ID" field when you quote a shipment near the bottom of the page.
RapidShip LTL
RapidShip LTL is Roadrunner Freight's transportation management system (TMS) designed to help shippers control transportation spend while retaining carrier relationships without fees or intermediaries. Automate, integrate and enhance your LTL shipping operations by signing up for free here.