4 ltl budgeting tips for 2020

With 2020 fast approaching, managing cost control in a company's transportation spend is high on everyone's mind. Budgeting software can be pricey, but rest assured that your existing partnerships in the transportation industry can actually save you money in 2020!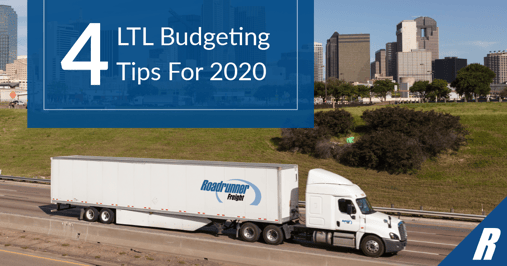 1: Understand the Current State of Your Company
Understanding where your organization currently is in comparison to your 2019 growth goals is important. Initiate conversations about projected growth early, particularly about sales projects and expectations.
2: Initiate Conversations With Your Carriers
Initiate conversations with your carriers and let them know the areas you are looking to grow your business, such as expanding in to a new geographic region, launching new products and more. This transparency allows carriers to understand what your business objectives are and might even align with growth initiatives from your carrier, bringing you even more savings.
3: Diversify Your Shipping
As the saying goes, "Don't put all of your eggs in one basket". In the transportation world, this means that you should use multiple carriers and capitalize on their strengths for your own savings. Some LTL carriers focus on long haul lanes and provide superior savings, while others shine in overnight deliveries and specific regions. When you grow your partnerships, you will expand your ability to save by having multiple rates to choose from.
4: Streamline Reporting Through Technology
Start the new year off by moving all of your LTL shipping operations into a transportation management system (TMS), such as Roadrunner Freight's RapidShip. Using a TMS allows you to access multiple carrier's rates through API connectivity and displays your options all in one system. RapidShip provides robust reporting that gives you a bird's eye view of your spending, options and documents.