5 Mistakes to Avoid
When Packaging LTL Freight
Improper packaging can result in costly damages, fees and delays for LTL shippers. The five tips below will help LTL shippers avoid unnecessary damage and protect their freight.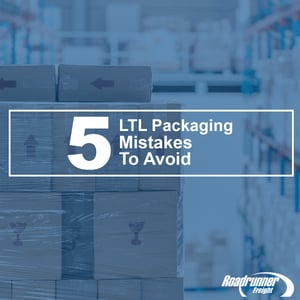 1. Don't Allow Freight to Hang Over the Edge of the Pallet

Overhanging freight is the easiest way for shipments to get damaged, whether in transit or during the loading process. Shippers should remove overhanging freight and make arrangements for the freight to fit properly on a pallet or in a box.
2. Refrain from Packaging Heavy Product in Weak Boxes

Boxes that are weak or reused cannot support the full weight of the shipment and often result in the product inside getting crushed on the bottom of the pallet. Heavy grades of cardboard are the most effective in preventing concealed damage. Utilizing proper packaging can protect against potential claims and refused shipments down the road.
3. Forgoing the Use of Structural Supports, such as Pallets or Crates

Using a structural supports or pallet is highly encouraged when shipping LTL freight. These structural supports decrease the chance of damaged packages. When using pallets, the most popular and sturdy options are typically constructed out of plastic or wood. Crates also provide a safe structure to place loose items while still preventing damage during the freight's journey.
4. Resist Guessing Weight and Size

The dimensions of shipments directly impact the density of your LTL quotes. Accurately measuring the weight and size of your product helps shippers avoid extra charges down the road and ensures the shipment will properly fit onto the trailer. Roadrunner Freight offers a handy tool to allow shippers to calculate the density of their freight by entering the dimensions of their freight shipment. Check out the tool here.
5. Neglecting Your Freight Packaging

The trick to damage-free shipments and reducing the possibility of claims is dependent on your ability to correctly apply stretch wrapping, straps and protective corner boards. To ensure the film wrapping process is being done correctly, the correct amount of containment force must be applied, which results in the load being held together through pressure. When using straps, use at least two straps and ensure they are firmly tightened underneath the pallet. Lastly, corner boards offer protection from any scuffing and damage during the freight's journey.
Roadrunner Freight's team is dedicated to reliable, cost effective and customer focused LTL shipping. If you have any questions about packaging Roadrunner Freight or LTL shipping, please contact us.