SHIP IT LIKE YOU OWN IT is Roadrunner Freight's approach and commitment to treating our customers' freight as if it is our own, and that freight comes in all shapes and sizes - including a little boy's birthday unicorn! We pride ourselves on our diligence to give customers the best experience, and a recent story from our Atlanta facility highlights an excellent SHIP IT LIKE YOU OWN IT example from our team members.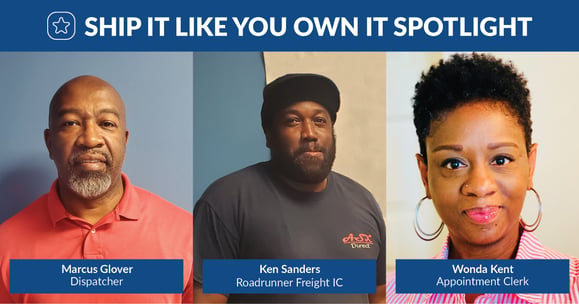 a unicorn delivery
A Roadrunner Freight customer was shipping her son's birthday gift to the Atlanta service center with a tight deadline on arrival for her son's birthday party. The birthday gift had just arrived in the Atlanta service center late in the morning on the day of the party, and our customer reached out to inquire on if there was any chance to delivery the shipment by the time the party started later that day.
This gift was no ordinary birthday gift - it was a long-awaited, motorized scooter shaped like a unicorn that the little boy had been longing for. Wonda informed the team that this shipment was for a young boy's birthday party that afternoon, and the customer really needed the freight delivered because the boy was looking forward to getting this special gift for his birthday. Without hesitation, our team collaborated to see how we could make this delivery happen.
With the trailer just arriving at our Atlanta facility, our team still needed to unload the trailer and this shipment would have likely been delivered the following morning.
Our dispatcher, Marcus Glover, discussed the situation with Wonda and reached out to Roadrunner Freight IC Ken Sanders who was just finishing up his day. Ken, understanding of this unique situation and with a gracious SHIP IT LIKE YOU OWN IT attitude, gladly buckled up to deliver the freight to the birthday party.
Ken was able to deliver the freight on his way home that evening, and the little boy couldn't be more excited to receive his unicorn.
a little 'thank you' goes a long way
The next day, the customer called in to the Atlanta service center with a special message for the team who made this happen. She passed the phone to her son who graciously thanked the team for making his birthday so special.
This little 'thank you' truly helped our team's dedication to SHIP IT LIKE YOU OWN IT shine bright, and we are so grateful to have committed team members like Wonda, Marcus and Ken! We're proud of the initiative taken by this team, and we thank you for shipping it like you own it!


About Roadrunner Freight
For information about shipping with Roadrunner Freight and our SHIP IT LIKE YOU OWN IT commitment, visit our website.