We Have Refreshed the Navigation Menu on Freight.rrts.com!
ALL TOOLS HAVE REMAINED THE SAME!
The order of the tools have simply changed.
We have restructured the main navigation menu to organize similar tools and simplify the user experience.
We hare also adding the ability to make payments online!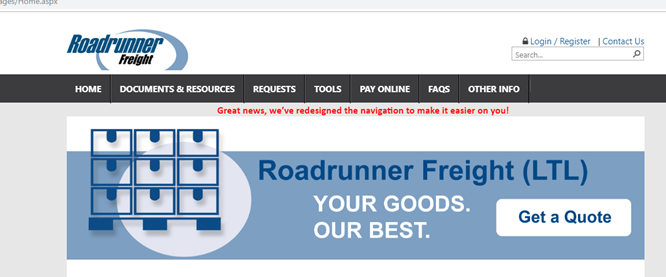 The new navigation options include:
Documents & Resources: Download Center, Download PC Rating Program, Fuel Surcharge, Rules Tariff, View Reports
Requests: Bill of Lading, Label Maker, LTL Rate Quote, Submit a Claim, Quick Pick Up
Tools: Density Calculator, Find Service Center by Postal Code, Track a Shipment, Transit Time Calculator
Other Info: Holiday Schedule, System Integration, Weather Delays
Please reach out to your local Account Executive if you have any questions!