The Big Transition: From Company Driver to Owner Operator
If you've ever thought about making the transition from company driver to owner operator, you're not alone. Everyone's truck driving experience and career goals are different, and seeking advice to get started can be difficult for those reasons. Check out Roadrunner Freight IC Jeff Pasley's advice below for advice on becoming an owner operator.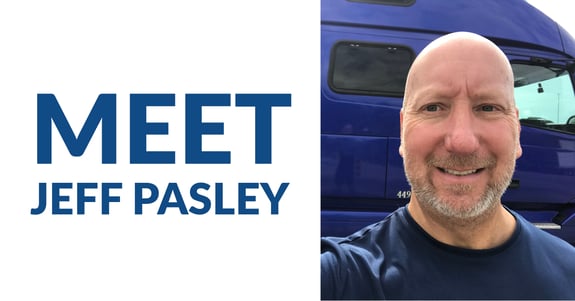 Q: How long have you been driving with Roadrunner Freight?
A: Since 2012
Q: What made you interested in trucking?
A: I was in sales for 5 years, but I wanted to venture out and not be in an office setting. My uncle was a truck driver, and he used to show me his truck -- I even had pictures of him with his truck that I admired.
My dad started having health challenges, and trucking gave me the chance to deliver loads near where he and my mom lived, so I was able to spend time with them. I also have children that live in Dallas, so I take loads out there, too.
At first, I wasn't sure if trucking was something I was going to want to do long term. I thought to myself "this sure is different, but I have to give it a chance!" and I gave myself at least a year. I got to see a lot of the country, and it made me look at things in a new way.
What do you like about working with Roadrunner Freight?
I told team members about my goals and we discussed what routes I can run that will get me home often. They see that I'm reliable and they offer great flexibility, so they worked with me to get turns that work for me.
As a company driver, it was hard to get time off, but as an owner operator, I have flexibility and the freight is consistent. Loads are ready when I get there.
What kept you from being an owner operator sooner?
One of the things that kept me from being an owner operator earlier, after two years of being a company driver, was all the inconsistent information I kept getting from other drivers. They said "you can't make money," "breakdowns will put you out," and "it's more comfortable being a company driver." I ended up doing my research, learned as much as I could, and now I wouldn't trade it for anything.
What advice would you give to a company driver interested in becoming an owner operator?
Give yourself some time to adjust your new job. There's a lot of variables involved. You'll learn what routes are good to take, how to manage your fuel and how to properly maintain your equipment. You'll get a good understanding of each load based on the miles you'll go, the terrain you'll face and the weight of the load you'll carry. It takes time, and you'll make mistakes along the way, but give it some time.
Read stats, expenses, research different types of major breakdowns, learn about what to look for when you purchase your first new truck. Put money aside too – don't get in over your head.
What keeps you driving with Roadrunner Freight?
The Roadrunner Freight team tries to be proactive and they consider everything a truck driver goes through in daily life. They are supportive people and communicate well. My IC Coordinator reaches out and takes the time to ask how I am business-wise but personally, too. She keeps me updated and offers constructive criticism when necessary.
For my family's lives and for our finances, I feel confident I'm working for a company that has been around for a while and will be around for years to come.