Traveling with the Wilsons
When Arrid Wilson was on the road away from his wife Rowsheld, their daily calls to each other kept them connected. After years of patiently waiting for her husband to come home every few weeks, Rowsheld took matters into her own hands and got her CDL. Now the couple rides together in the south running east to west with goals of owning their own equipment. Rowsheld's love for driving grew quickly, and now she hopes to own her own business one day. Their love, communication and expertise make them a successful Roadrunner Freight team and a lovable pair.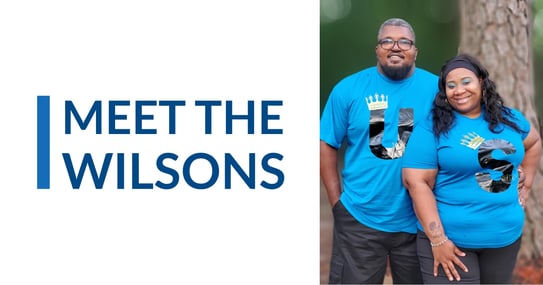 Q&A
Q: How long have you both been driving with Roadrunner Freight?
A: Since January 28, 2020.
Q: How did you both begin driving together?
A: "Arrid has been driving for 19 years. It was just three years ago that I started truck driving. Before that, I was a school bus driver," Rowsheld said.
"She kept calling me all day every day, and finally she thought about getting her CDL so she could come along," Arrid said.
Q: How long have you been married?
A: 4 years on May 16, 2020.
Q: What's it like driving together and living in such close quarters all the time?
A: "A lot of people don't know how to get along in the truck. They don't know how to make it fun. We always laugh and always think of the positive. If you and your partner have a disagreement, one should drive and the other should go to the back of the cab to cool off. Then you move on and have more fun again," Rowsheld said.
"Also, make sure to get out sometimes wherever you're at. Eat together or go to the movies if you have some time. Go shopping -- especially shopping. Be a diva trucker!" she added.
Q: What are your hopes and dreams for your company?
A: "We want to own our own truck. She also wants her own truck and company," Arrid said.
Q: What's it been like working with Roadrunner Freight?
A: "It's been great. I love the terminals. I tell others if they have their CDL they should drive with Roadrunner Freight," Rowsheld said.
Q: What do you like about driving?
A: "Being on the road is awesome – you get to see the world. When you're driving you see mountains and you see different states you've never been to. It's like a dream," Rowsheld said.
Q: What advice do you have for other drivers?
A: "Stay positive, pray before you get on the road, then get out there! Today is the day! You're getting back on the money train!" Rowsheld said.
"Be patient, watch out for other truck drivers, be cautious and be aware of weather conditions," Arrid said.
Click here to learn more about driving with Roadrunner Freight.