Dear Roadrunner Freight Independent Contractors,
I hope this message finds you safe and healthy. Through all the difficulties we've faced as a country recently, I can't thank you all enough for your steadfast service and for continuing to be part of the Roadrunner Freight family.

As your business partner, we care about the success of your business, but we also care that you feel safe and appreciated. I hope you've had an opportunity to read the email I recently sent addressing the civil unrest in our country. As I stated, racism, inequality and disrespect have no place at Roadrunner Freight. We are here to support your business, but your wellness comes first. One way for you to provide anonymous feedback is through the Workhound app. We encourage you to utilize this tool to inform us of any issues you feel we need to know about.

Our company continues to grow even with the current headwinds we are facing. This growth is giving our Independent Contractors ample options to keep moving and growing their businesses. Read on for more about our company updates, new business won and driver spotlights.


Ship It Like You Own It,

Frank
President
Roadrunner Freight
Company News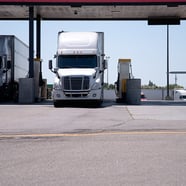 Fuel to Trip is live!
Fuel to trip processing is now active. We hope you're finding this change helpful as you manage your business.
If you have any questions about these changes, click here to see the Fuel to Trip memo or contact your IC Coordinator.
---
ROADPRO: Your new business management tool
As our IC fleet grows, we strive to continue improving our processes to support your success. ROADPRO will present your safety, service and operations results, personal trends and peer rankings on a monthly basis -- a new part of your business planning meetings with your IC Coordinator.

You should be hearing from your IC Coordinator or Regional Safety Manager soon to review your individual results.
---
Hazmat Placards Installation
To reduce our Hazmat CSA score, flip placards will be equipped on all of our pool trailers. Moving forward, as you pull trailers from our pool, you will begin seeing these installed.
If you have any questions, please reach out to your IC Coordinator.
---
Safe Driver Week is July 12-18
Although safe driving is always the expectation, Law enforcement will be extra vigilant to drivers displaying unsafe driving behaviors as well as drivers with observable defects. Review the root causes of inspections here in preparation for Safe Driver Week.
Driver spotlights

A day in the life of an IC is never the same as the next, but these Roadrunner Freight ICs make sure they ship it like they own it every day! Here are our highlighted ICs for June.
Local Driver Spotlight: Andrew Kirkland
Andrew has done a great job servicing our local Nashville metro area. We're proud to be his business partner. Wish him well on his featured Facebook post!
---
OTR Driver Spotlight: Dana and Scott Zylks
The Zylks have been trucking for over 30 years, and their experience shows! They're hard working and always on time. Show your support by leaving them a comment!
---
Driver Feature Story: Jeff Pasley
Many wonder if OTR trucking is the right career for them. Check out Roadrunner Freight IC Jeff Pasley's advice on becoming an owner operator.
What's Next?

New Roadrunner Freight terminals in Philadelphia and Chicago

How to build a successful fleet with Roadrunner Freight

National Hire a Veteran Day
To learn more about driving for Roadrunner Freight, click here.