Dear Roadrunner Freight Independent Contractors,
February has been a really strong month for the Roadrunner Freight team, and our mantra of SHIP IT LIKE YOU OWN IT is producing positive results throughout our network. Here are some of the recent enhancements that we are most proud of:
Delivery exceptions have significantly reduced and are at the lowest level they've been in over eight years.
Dock Automation has been rolled out at our Milwaukee, Commerce, Los Angeles, Dallas, Houston and Atlanta service centers. We hope you have started experiencing the positive impact of more efficient docks to keep Independent Contractors on the road.
We have made significant lane enhancements over the last month to better service our customers and keep our Independent Contractors moving.

New next day delivery lanes have been added between Dallas and Houston as well as Charlotte and Atlanta. These are exciting additions and we're not stopping there!
Everyone at Roadrunner Freight is looking forward to a strong year. We hope you're as excited as we are for our momentum and future growth. Thank you for all of your hard work and be safe out on the road.
SHIP IT LIKE YOU OWN IT!

Frank
President
Roadrunner Freight

Company Updates
HaulNOW Mobile App Update
The HaulNOW mobile app has experienced an outage that will require users to delete and redownload the app. Please follow the steps below to ensure your application is working properly:
Press and hold the HaulNOW mobile app icon on your Apple/iOS device
Select "Delete App" from the menu options that appear
Follow the link here to redownload the HaulNOW app
Login with your IC number and password
If you have any questions, please contact your IC Coordinator.
Maintenance Updates
Free Tire Inspection Program From Goodyear
Have you heard that Roadrunner Freight offers a free tire inspection program through Goodyear? Love's and TA have discontinued this service, but we encourage you to use Goodyear's free program at your convenience. Learn more about tire inspections with Goodyear here or contact your IC Coordinator.
Lpool Trailers: See Something, Say Something!
If you are at a Roadrunner Freight terminal or on the road and notice a defect in one of our Lpool trailers, please email RR-fleetmaintenance@rrts.com with the below details:
Trailer Number
Location of Trailer
Description of the Defect
Our Maintenance team will work with local vendors to ensure that trailers are serviced immediately.
Safety Updates
Clearinghouse Update
FMSCA has implemented the Clearinghouse for Drug and Alcohol recording, effective January 6, 2020. Since this is a new regulation, please click here for more information.
If you have any questions, please reach out to your IC Coordinator.
Driver Spotlights
Roadrunner Freight is proud to honor Todd Wright as February's OTR Driver Spotlight! Todd's passion for success is admirable, and we're happy to be an aid in his success. Congratulations, Todd! Click here to see the full post.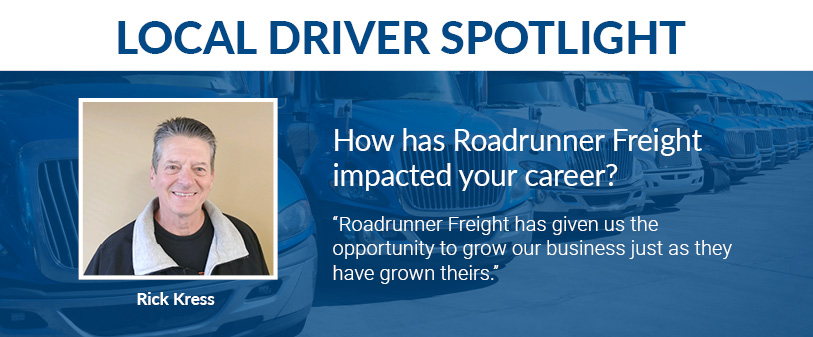 Roadrunner Freight is proud to highlight Rick Kress as our February Local Driver Spotlight! It's not everyday that we meet a man with as much passion for his career as Rick has. Thank you for your dedication to excellence, Rick! Click here to see more.
MEET JERRY HARPER
Jerry Harper has never let anything stop him from running a successful business. Despite fighting through some of the hardest times of his life, Jerry has successfully managed to run over 150,000 miles a year. We're proud to do business with a man as dedicated as Jerry. Learn more about him here.
Tell Us What You Think!
We want to hear from you! Every month, Independent Contractors will receive a new survey with questions about your experience at Roadrunner Freight. Each survey should only take three minutes to complete, and your feedback will help us shape the future of the IC experience at Roadrunner Freight! Complete the survey by clicking here.
What's Next?
Do you know a Roadrunner Freight Independent Contractor who should be featured in next month's Trucker Tribune? Send your nomination to marketing@rrts.com for a chance for them to be featured!